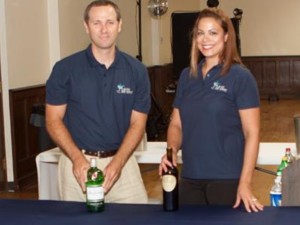 A Better Bar Service was formed by two great bartenders with over 20 years of professional experience in Wichita's Old Town bar district. With the need for a higher quality service in the Wichita area, the opportunity to create a "better bar service" was obvious. Because of this, our goal is to create a desired atmosphere for your private party or event and handle all the details, while preserving the quality you expect. Attention to detail, professionalism, and a great drink are just a few of the things you can expect from us! We also ensure that all our bartenders are trained in beverage control and age verification. Alcohol responsibility and your satisfaction are our top priorities.
All of our bartenders are current or former bartenders in the Wichita area. We do not employ inexperienced or unqualified bartenders. We have a high level of expectation for each of the members of our bar staff. This allows us to deliver the professionalism you expect.
We are more than happy to meet and consult with you about any of the details of your party or event. We know how hard planning an event can be, so we would love to work with you to make it an stress-free and enjoyable experience.
We can provide bartenders, cash bars, or host bars. We can customize any event so you can get exactly what you are looking for from a bar service company.